Financial Due Diligence of Indian Companies
Make well-informed customer or vendor onboarding decisions at great speed
InstaCombo Report includes InstaDetalied Report + InstaDocs Report. InstaCombo Report enables you to perform financial due diligence of any of your corporate customers & vendors with high confidence and greater speed.
Access the latest 3-year audited financial statements, ratios, schedules, ownership, auditors, related parties information, charge search report, credit rating, and employment trend, which are part of InstaDetailed Report along with the company public documents that are offered via InstaDocs Report.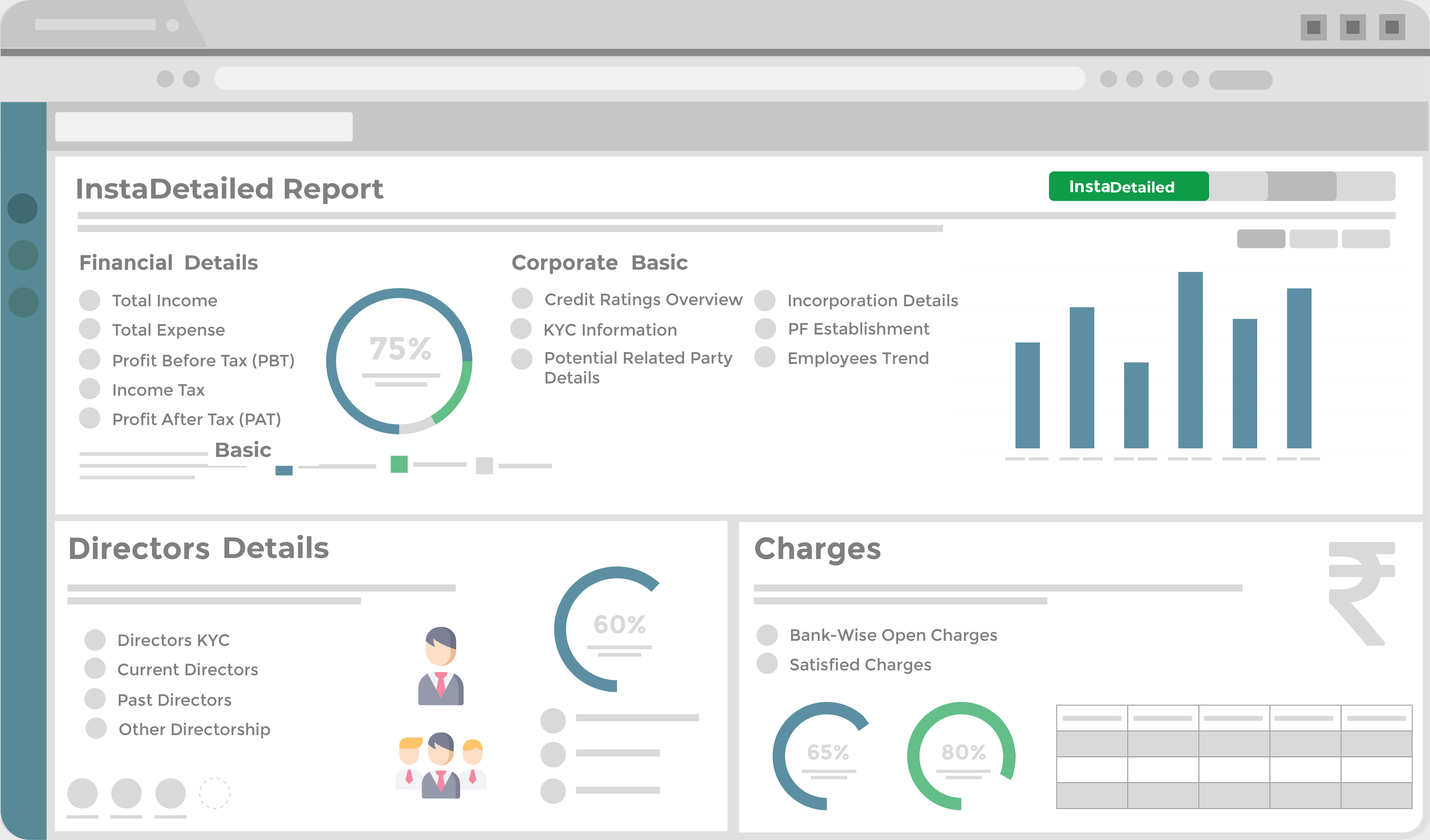 Click on the Play button above to watch the InstaCombo Intro Video
Content of InstaCombo Report Unlock Right Information with Key Insights
Explore what does InstaCombo report consist
Balancesheet
Profit & Loss
Cash Flow
Financial Ratios
Shareholders
Parent Company
Subsidiaries
Current Directors
Past Directors
Other Directorship
KMP
Auditors
Related Parties
Charge Search Report
Future Charges
Personal Garuntee
Open Charges
Satisfied Charges
Modified Charges
< 12 Month Rating
> 12 Month Rating
Suite Filed Cases
Employee Trend
Company Master
Director Master
Charges Master
Current Directors
Past Directors
KMPs
Director Profile
Current Directorship
Past Directorship
Audited Financial Report
Incorporation Docs
Charge Forms
Investment Forms
Benefits of InstaCombo Report Perform Financial Due-Diligence Faster & Better
Onboard Your Customers & Vendors with More Confidence
Delivered within 5 W Hours
Report will be prepared, verified and delivered within 5 Working Hours to your registered email ID and can be accessed via your InstaFinancials account.
Financial Statements
Get Latest 3 year Profit and Loss, Balance Sheet, Cash Flow Statements, Financial ratios and schedule breakup are part of our InstaCombo reports
Public Documents
All the docs that are offered as part of InstaDocs report are included in InstaCombo. InstaCombo will includes InstaDetailed and InstaDocs Report.
Charge Search Report
We are the first company to introduce charge search report that offers a detailed hisotry of each open charge along with the link to donwload the charge form directly from the form.
Rating & Corporate Data
Access latest & older than 12 months credit rating information. Corporate data such as parent, subsidiary, related party, auditor & directors information.
Download PDF or Excel
You can download the InstaDetailed report in both PDF or Excel format. InstaDocs report will be deliverd in PDF format with the links to the respective company public documents.
Download Formats
Online View
PDF / Excel Download
API - XML / JSON
Frequently Asked Questions Questions that may arise on your mind
Find relevant answers to your questions regarding InstaCombo
Reports are not limited only to Public Limited Companies. We provide InstaCombo report for Private Limited and Public Limited (Listed and Unlisted) Companies registered under Companies Act 2013.
InstaCombo includes InstaDetailed & InstaDocs Reports. InstaDetailed Report does not include InstaDocs. InstaCombo is not a separate report, while InstaDetailed report is provided in PDF or Excel format which will be made accessible when you place order for InstaCombo report.
Yes, you can subscribe for 5 InstaCombo or 10 or more InstaCombo reports and enjoy up to 50% discount on MRP per report.
Company financial information such as Balance Sheet, Profit and Loss Statement, Cash flow Statements and all other financial data is obtained from Ministry of Corporate Affairs website. You can obtain InstaCombo report to cross verify the original financial statements, with the public documents submitted by the company to MCA. Every information mentioned in the report is obtained from most reliable sources. You can cross verify any information from the respective domains.
The information will be provided on best effort basis. As not all the companies are rated, you cannot expect the rating information for all companies. Similarly, all other information is subject to availability in the respective domains.
As a part of our InstaCombo report, you can get a InstaDetailed report and complete set of company public documents.
Every update is considered as separate report. We offer a bundled price along with multiple updates. Please connect with our support team at +91 8792 827 285 for more information on this.