Convert XBRL to excel online
Best tool to convert Indian XBRL XML to excel
InstaConverter facilitates conversion of company annual returns from XBRL to Excel. InstaConverter is the simplest, cloud based platform which support conversion of company financial statements, annual reports from xml files format to excel file format, online without the need to download any software or tool at your desktop.
InstaConverter supports all the MCA XBRL formats starting from FY 2011-12 to the latest financial year. Our XBRL converter is in strict compliance with the taxonomy defined my MCA and keeps updated regularly in line with the new changes regulated by Ministry of Corporate Affairs.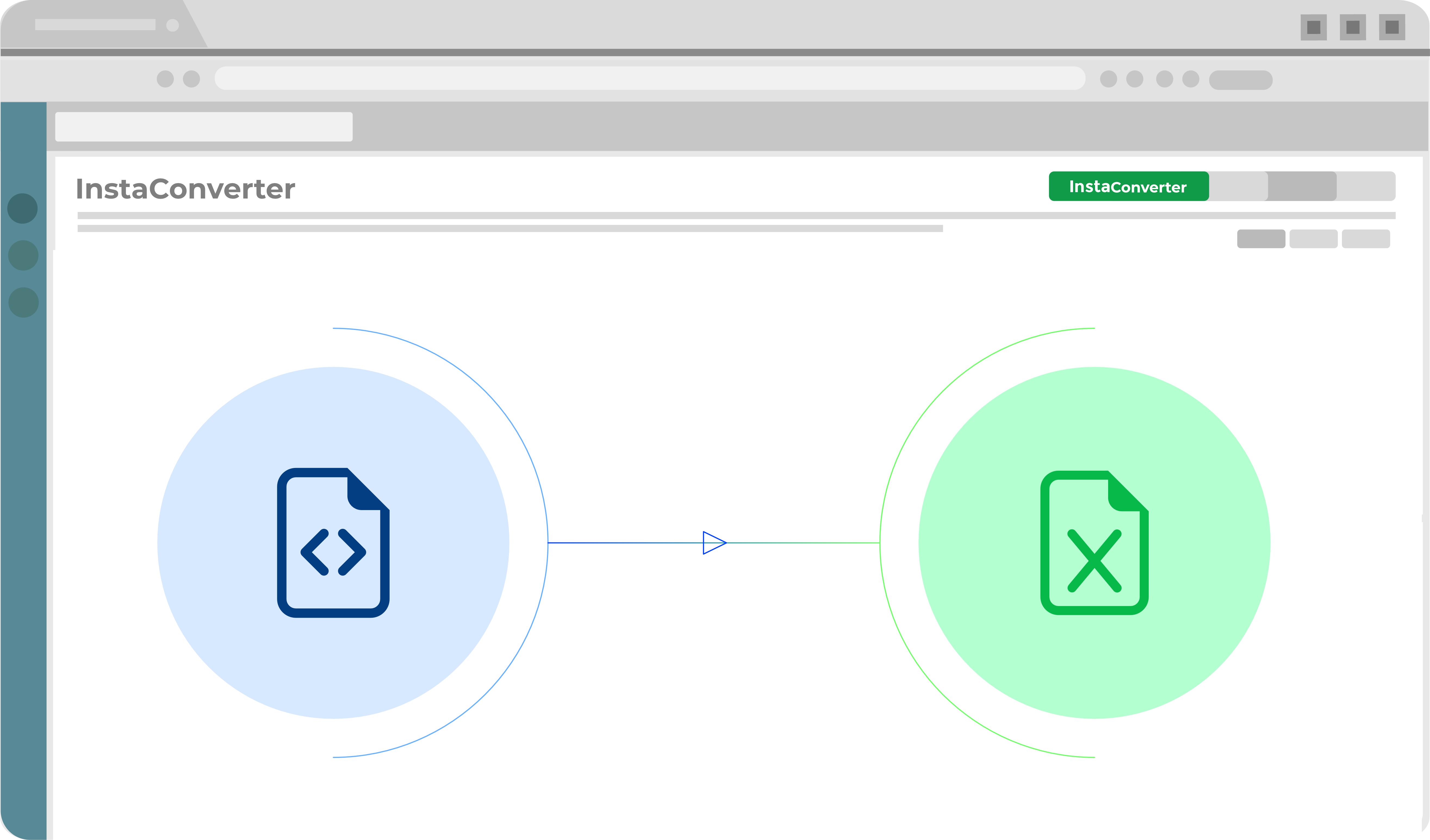 Click on the Play button above to watch the InstaBasic Intro Video
Benefits of Online InstaConverter Unlock the XBRL Files Downlaoded From MCA
Covert XBRL Files into EXCEL Instantly
Instant Delivery
Files are converted instantly. Valid XML files can be converted and downloaded in excel file format instantaneously. Hence, 0 waiting time.
Compliance
InstaConverter in in compliance with taxonomy defined by Ministry of Corporate Affairs and understands all XBRL files starting from FY 2011-12 to the latest financial year.
3 Steps
You can convert XML/XBRL files in just three simple steps. 1. Select the output template, 2. Upload xml 3. Download converted Excel.
Charges
The amount is charged only for successful conversion. Hence, you are charged for what you have consumed. No subscription charges or annual maintenance fee.
Download Excel
The repository of all converted files will be available in your login,you can login and download the same excel file any number of times without any additional charges.
Up to Date
This online conversion tool will be updated to support the latest XBRL taxonomy defined by Ministry of Corporate Affairs. Hence, avoids the pain of keep installing new updates on your desktop tools.
Formats
Input: XBRL file in XML Format
Output: Excel Format
Learn How to convert XBRL to excel?
You can convert any Indian company XBRL file (complied with Ministry of Corporate Affairs' taxonomy and business rules effective from FY 11-12) to excel in three simple steps using online InstaConverter.


1. Select the output template,
2. Browse and upload XBRL XML file
3. Download the converted excel file. View the following video for more information:
Frequently Asked Questions Questions that may Arise on your Mind
Find relevant answers to your questions regarding InstaConverter
As the annual reports of large corporates are presented in XBRL standards and in XML file format, it is difficult for users to read and understand the data directly from xml file. Hence, InstaConverter helps users to convert these financial statements or annual reports in to excel file format which can be easily understood and consumed for further analysis.
MCA XBRL validation tool is a desktop based application which validates your XBRL file and converts the xml file to PDF file. Every year MCA will keep updating the validator as they keep amending or updating the taxonomy and business rules of XBRL. InstaConverter in a cloud based application which simplifies the XBRL file conversion. It offer the following key benefits:
Converts xml to Excel - excel is most preferred over pdf for analysis
Converts Online - no installation or upgrade etc. required
Cloud Based - you can use it from any web browser and anytime
Repository of converted files - your files are safe in your login. You can access them anytime and download from anywhere
Worry free from updates - we will keep enhancing our tool to support latest taxonomy
InstaConverter support conversion of all valid XBRL or XML files which are in compliance with the taxonomy and business rules of Ministry of Corporate Affairs, Ministry of Finance, Govt. of India.
This online XBRL conversion tool supports conversion of XBRL 2011-12, XBRL 2012-13, XBRL 2013-14, XBRL 2014-15, XBRL 2015-16, XBRL 2016-17.
Yes. You will be able to select a folder or multiple xbrl or xml files and all the selected files can be converted.
Yes. We can customize the template of the files we are generating. You can pick and choose the specific fields you need from an XBRL file and define a template which is easier for you to consume. Please feel free to contact us.
Yes. We can extract data from any of the company public documents and provide you required data. Please feel free to contact us.
Yes. We are open to explore this option. Please feel free to contact us.
Yes. We can help you automate the process of conversion and seamlessly integrate with your application. We can over APIs which can convert the xml files to xl or excel. Please feel free to contact us.
Credit Assessment professionals or financial analysts, who analyse XBRL documents downloaded from MCA as a part of company public documents can use this online tool to convert the annual returns in to excel. The files generally attached to AOC4 forms can be converted using InstaConverter for further analysis.
Credit Rating Agencies, Banks, NBFCs, Financial Institutions, market research firms, investment bankers, investment consultants and various other professionals who analyse any company public documents or financial statements can be highly benefited from this tool.
Chartered Accountants or XBRL consultants or MCA Filing consultants, can use this tool to convert the XBRL file they have prepared for filing into excel to share with their clients for validation.