Access 8+ Lakh Companies Financials Instantly
Your customer & competitor profiling simplified
Understanding the profile of sales leads is essential for the success of any sales transaction. You can access the financial summary profile of your corporate leads instantly on InstaFinancials platform. InstaSummary will help you to find the potential of your corporate leads and plan your sales tactics to increase the probability of winning the deal.
Knowing how your competitors are performing helps you to make better strategic decisions. Get your competitor financial summary profile instantly at a compelling cost, stay ahead of your competitors.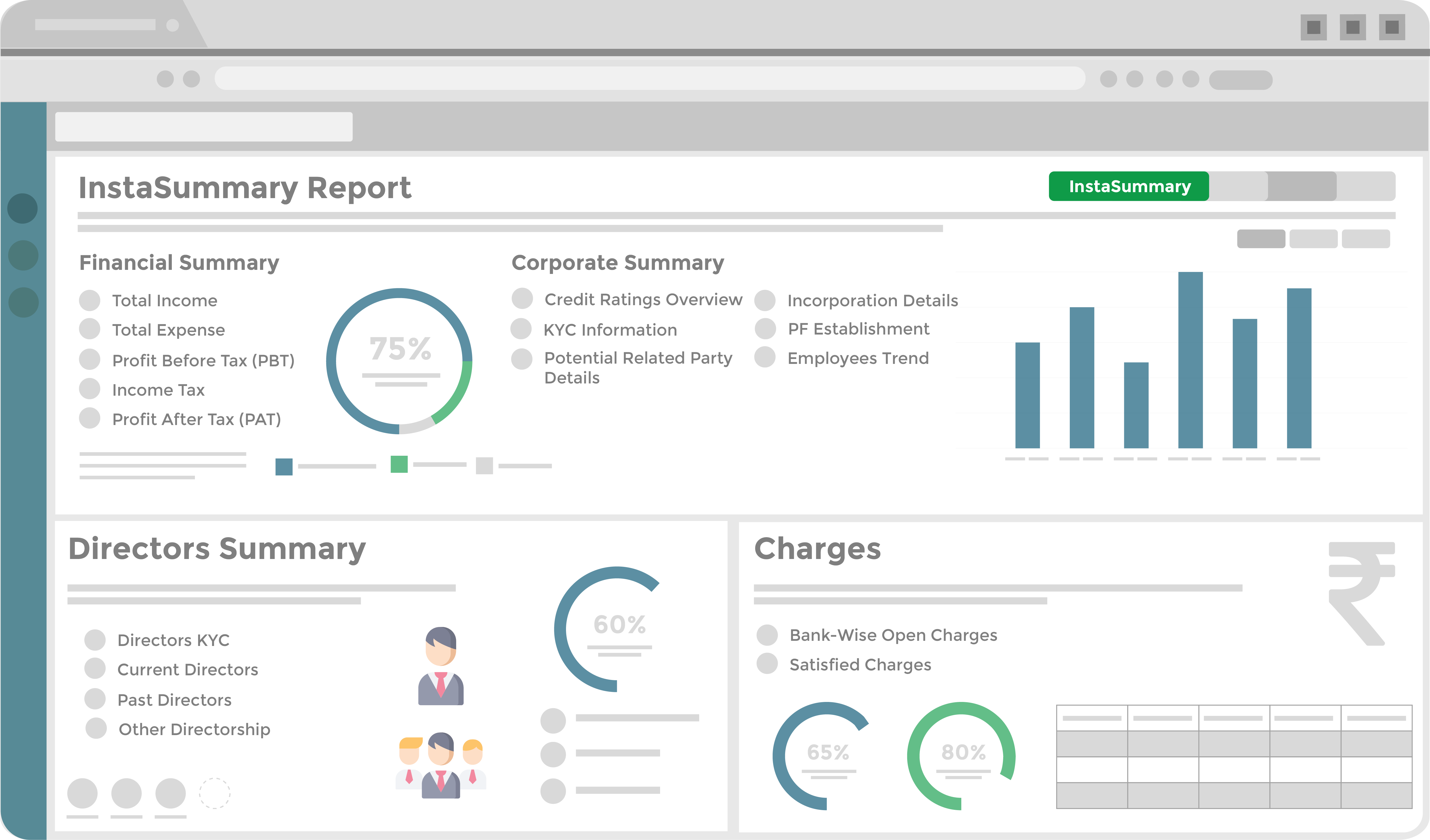 Click on the Play button above to watch the InstaSummary Intro Video
Content of InstaSummary Report Unlock Right Information with Key Insights
Explore what does InstaSummary report consist
Total Expense
Profit After Tax (PAT)
Credit Ratings Overview
Incorporation Details
KYC Information
PF Establishment
Potential Related Party Details
Employees Trend
Directors KYC
Other Directorship
Current Directors
Past Directors
Benefits of InstaSummary Report Build corporate leads and stay ahead of your competitors
Unleash the potential of your corporate leads
Corporate Lead Profile
You can get a comprehensive corporate lead profile to understand the potential of your lead. The key insights offered in InstaSummary helps you define your sales tactic & optimize your deal probability.
Competitor Profile
The latest 3 year financial summary of your competitors along with other key insights are available at a compelling cost. Many smart directors or CFOs have subscribed for annual update of their competitors on our platform.
Instant Delivery
InstaSummary is end-to-end automated, from fetching the information to deliver the report. You can order for InstaSummary report in few simple steps and get your customers financial summary profile instantly.
8+ Lakh Companies
You can access latest 3 year financial summary of over 8+ Lakh Indian companies instantly only on InstaFinancials. The information is updated year on year enabling you to access the latest information.
Check Availability
You can check the availability of financial, credit rating, employment trend, director KYC or other key information before placing order. Our transparent order process helps you save time and money.
Online/PDF/API
You can view InstaSummary Report Online or download in PDF Format. You can integrate with any fintech / CRM / enterprise application to pre-fill your customer profiles and ensure data accuracy & integrity.
Download Formats
Online View
PDF Download
API - XML / JSON
Who & How to Use? Use Cases & Target Audience
Know-how to utilize Summary reports
Use cases
Customer Profiling
Total Addressable Market (TAM)
CRM Data Enrichment
B2B Lead Database
Company Categorization
Competitor Analysis
Employer Verification
Target Audience
Banking
NBFC
Payment Banks
Corporate - B2B
Corporate - B2C
Venture Capitalists
Executive Search Firms
Startups
Fintech Companies
CRM / ERP Service Providers
IT & ITES
B2B Marketplaces
Categorization / Retail Credit Policy
Business Development
Marketing
Business Intelligence
Competitor Analysis & Strategy
Directors & Business Owners
How to Place Order? Order InstaSummary Report in 6 Simple Steps
The order flow is similar to your favourite e-commerce portals
How to Download Report? Download InstaSummary Report in 3 Simple Steps
You can view the report online or download it in PDF
Frequently Asked Questions Questions that may Arise on your Mind
Find relevant answers to your questions regarding InstaSummary
Yes. You can check the availability of information before placing the order. Once you click on Order Now button under InstaSummary, the system will automatically check the availability of the financial and non-financial information and display the result instantly.
Yes, a user can apply filters on different parameters like credit rating data, financial, geographical elements, Industrial classification, EPFO etc. E.g. You can find the list of companies which are bbb+ or better rated companies(Credit rating), between 10 cr to 1000 cr total revenue (Financial elements) as well as apply filters on registered office in Mumbai, Delhi, Bangalore etc. (Geographical elements).
Yes, absolutely! The sample data can be provided for the bulk purchase in an Excel format.
Yes. You can simply provide the company names, we will clean the company names, find valid CIN and enrich all InstaSummary data for the list provided to us.
Yes. We provide the InstaSummary data in API vide our InstaDaaS. This information can be integrated with any web application to have seamless access to the data.