InstaFinancials
Confidence Comes from Knowing
We help you know 25.5 Lakh Indian LLPs, OPCs, Private & Public Limited Companies better & faster to empower you to make confident business decisions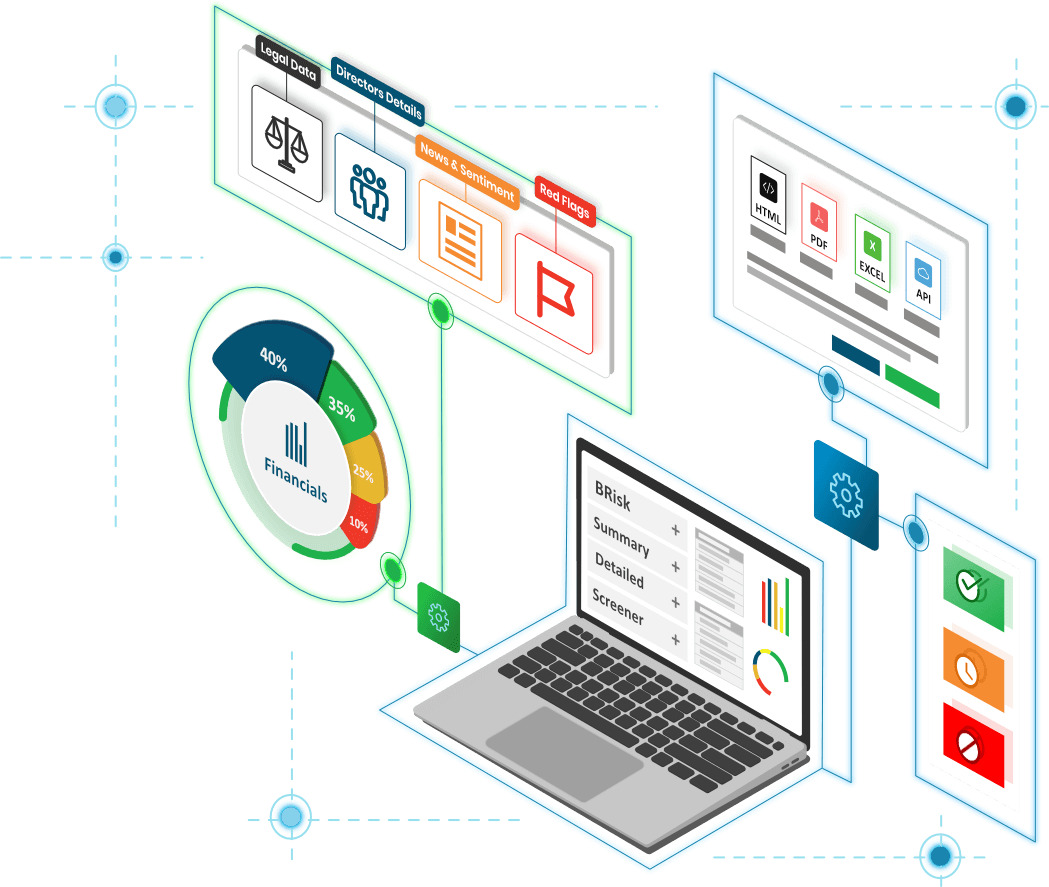 SOLUTIONS Discover the solution that best suits your needs
Access all the corporate data and intelligence you need at once place.
Find or build a solution that fulfills the requirements of your every business function.
I want to know my...
WHY INSTAFINANCIALS We care about things that matter for your growth
It is not just about the numbers. It is the representation of an insightful analytical experience.
8+ Lakhs
Companies Financial Summary
25.5+ Lakhs
Companies Incorporation Data
31 Lakhs
Directors Information
700+
Regulatories, Tribunals and Courts
Key Features & Benefits Why Choose InstaFinancials?
Individual to Large Enterprises & Banks,
We Have Exciting Benefits & Subscription Plans for All
Standard & Custom Reports - Select any standard report to order or create your own custom report by selecting what you want and pay only for what you have selected
Flexible Payment Plans - Pay per order or Use Wallet or Post Paid
Tailor-Made Subscription Plans - Discuss with our solutions team and get your favourite subscription plan with compelling discounts & offers
Team Management: Get admin user login ID, Add, edit or disable any number of Sub-users for FREE.
Great Savings: Enjoy amazing discounts on your repeat orders or reports that are ordered by other users
Bookmark Companies: Bookmark your corporates customers, competitors, vendors etc and track their updated company info for FREE
Secure & Private Notes: Keep your private comments & notes about all your customers, competitors etc for FREE
Promote Your Company: Add more information about your company & offerings, make a better impression & get FREE sales inquiries
Reviews & Rating: View customer, vendor and employee reviews and ratings for any Indian Company
For Corporate Subscription Plans, Bulk Requirement, Custom Reports & more
contact us at +91 8792827285 or Sales@InstaFinancials.com
Pay only for what you consume with our
Consumption-based Pricing Model (CPM) or
Talk to us about
the Subscription-based Pricing Model(SPM)
(SPM facility Only for Large Enterprises & Banks)
CLIENTS Join 75K others who are making confident decisions
Fulfilling your business goals with the insightful information of 25.5+ Lakhs companies across India.

Scale up your business with
InstaFinancials